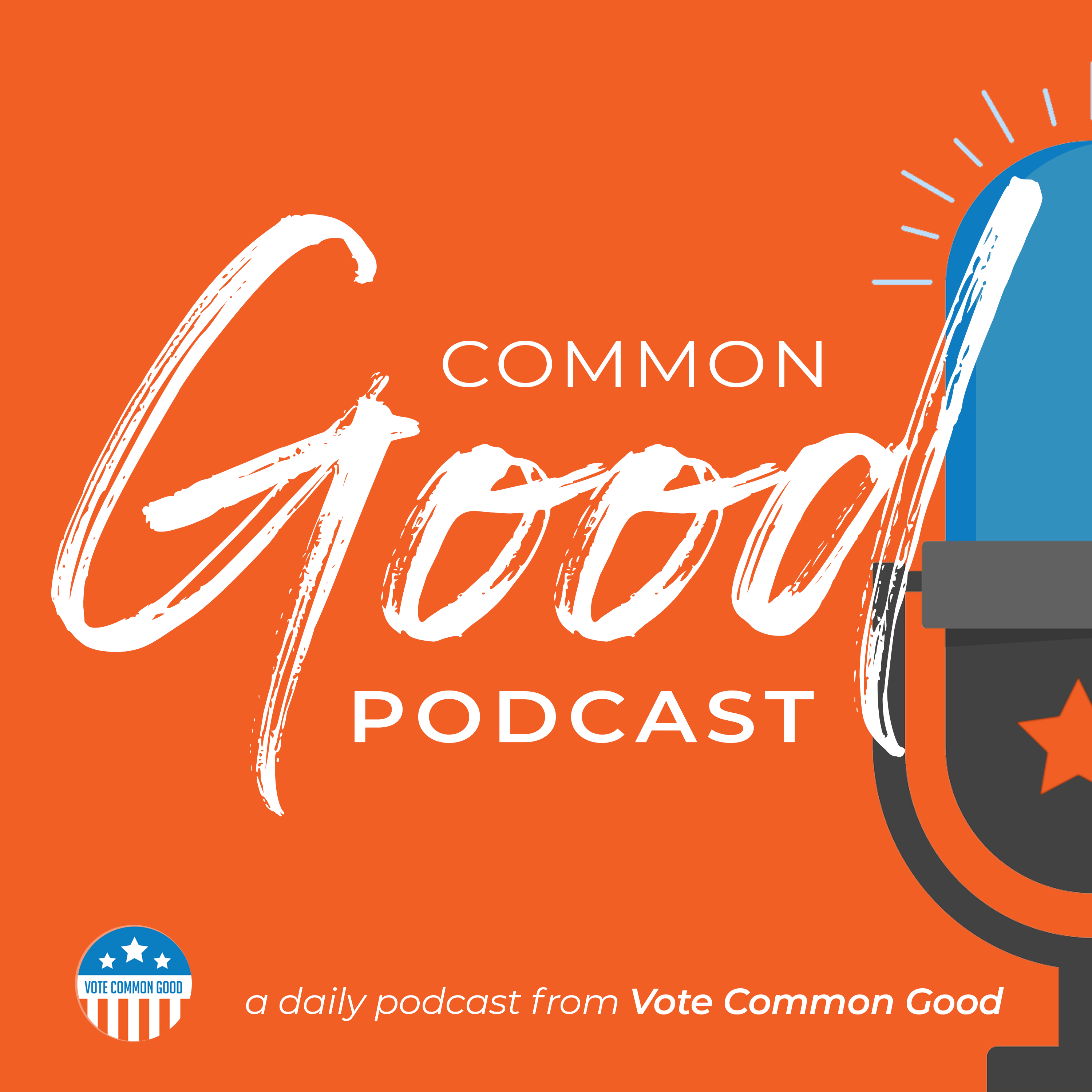 Vote Common Good is inspiring and mobilizing people of faith to make the common good their voting criteria. Tuesdays we talk Politics, Wednesdays we talk about how Faith should compel us to care about the Common Good, and Thursdays we talk Science, Space and Economics.
Episodes
Thursday May 27, 2021
Thursday May 27, 2021
These four sessions were recorded during a live, interactive webinar in April 2021 and explore a faithful response to the rise of Christian Nationalism in America. 
Session 4 is hosted by Doug Pagitt, Christy Berghoef, and Rev. Dr. Stephany Spaulding and features Shane Claiborne and Kristin Du Mez, author of JESUS AND JOHN WAYNE: How White Evangelicals Corrupted a Faith and Fractured a Nation.
Kristin Kobes Du Mez, Ph.D. is Professor of History and Gender Studies at Calvin University. She holds a PhD from the University of Notre Dame and her research focuses on the intersection of gender, religion, and politics. She has written for The New York Times, The Washington Post, NBC News, Religion News Service, and Christianity Today, and has been interviewed on NPR, CBS, and the BBC, among other outlets. Her most recent book is Jesus and John Wayne: How White Evangelicals Corrupted a Faith and Fractured a Nation.
Shane Claiborne is a prominent speaker, activist, and best-selling author.  Shane worked with Mother Teresa in Calcutta, and founded The Simple Way in Philadelphia.  He heads up Red Letter Christians, a movement of folks who are committed to living "as if Jesus meant the things he said." Shane is a champion for grace which has led him to jail advocating for the homeless, and to places like Iraq and Afghanistan to stand against war. Now grace fuels his passion to end the death penalty and help stop gun violence.
Christy Berghoef is an author, speaker and consultant seeking to elevate the truth and thoughtfulness of political dialogue. She speaks and leads civil discourse workshops for churches, schools, non-profits and businesses. She studied Political Science at Calvin University and attended Calvin Seminary. Her work has been at the intersection of faith and politics. She authored CRACKING THE POT: Releasing God from the Theologies that Bind Him.
Rev. Dr. Stephany Rose Spaulding is pastor of Ebenezer Baptist Church in Colorado Springs, associate professor of Women's and Ethnic Studies at the University of Colorado, Colorado Springs (UCCS) and former U.S. Senate candidate for the state of Colorado. She holds a B.A. in English from Clark Atlanta University, as well as a M.A. in American Literature and a Ph. D. in American Studies both from Purdue University. She is the author of RECOVERING FROM RACISM: A Guidebook to Beginning Conversations (2015) and ABOLISHING WHITE MASCULINITY FROM MARK TWAIN TO HIPHOP: Crisis in Whiteness (2014).
@drstephanyrose     //      facebook.com/stephanyrose 
Doug Pagitt is a pastor, author, activist and the Executive Director of Vote Common Good.  @pagitt
The Common Good Podcast is produced and edited by Daniel Deitrich. @danieldeitrich
Our theme music is composed by Ben Grace. @bengracemusic